5.2 Magnitude Earthquake Shakes Melonguane North Sulawesi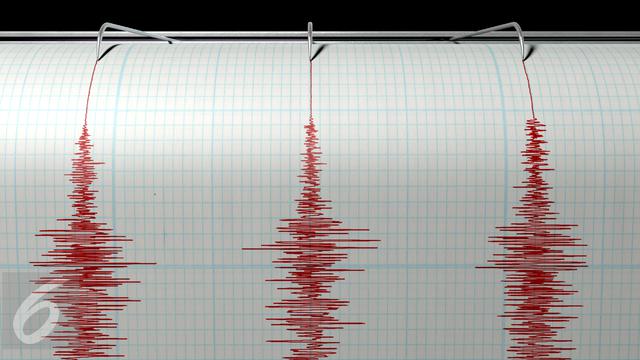 Jakarta - An earthquake of magnitude 5.2 shook Melonguane, North Sulawesi (North Sulawesi) tonight, Friday (1/5/2020). The earthquake occurred at 20.48 West Indonesia Time.
The Meteorology, Climatology and Geophysics Agency (BMKG) informed, the location of the earthquake was 4.49 North Latitude (LU), 127.02 East Longitude (BT) or 66 km Northeast of Melonguane, North Sulawesi.
The earthquake was at a depth of 48 Km.
BMKG said, the earthquake at night, had no potential for a tsunami.
This must be done before, during and after an earthquake.
Before:
- Make sure that the structure and location of your house can avoid the danger caused by an earthquake, such as a landslide or a faction. Evaluate and renovate your building structure to avoid the danger of an earthquake.
- Get to know the environment where you work: pay attention to the location of doors, elevators, and emergency stairs. Also find out where the safest place to take shelter.
- Learn to do first aid and fire extinguishers.
- Write down important telephone numbers that can be contacted when an earthquake occurs.
- Arrange the furniture so that it sticks firmly to the wall to avoid falling, falling down, sliding when an earthquake occurs.
- Arrange heavy objects as far as possible at the bottom. Check the stability of hanging objects that can fall when an earthquake occurs.
- Store flammable materials in a place that is not easily broken to avoid fire.
- Always turn off water, gas and electricity when not in use.
- Prepare equipment that must be in every place: First aid kit, flashlight / battery, radio, food supplement and water.
When an Earthquake Occurs:
- If you are in a building: protect your body and head from the rubble by hiding under a table, find the safest place from rubble and shocks, run outside if it can still be done.
- If you are outside a building or open area: Avoid buildings around you such as buildings, electricity poles, trees. Pay attention to where you stand, avoid if ground fractures occur.
- If you are driving a car: get out, get off and away from the car avoid in case of a shift or fire.
- If you live or are on the beach: stay away from the beach to avoid the danger of a tsunami.
- If you live in a mountainous area: in case of an earthquake avoid an area that might have an avalanche.
After an Earthquake Occurs:
- If you are inside a building: get out of the building in an orderly manner; do not use the stairs or elevator, use the stairs; check if anyone is injured, do first aid; call or ask for help if there are serious injuries to you or around you.
- Check your environment: if there is a fire, if there is a gas leak, if there is a short circuit. Check the flow and water pipes, check if there are things that are dangerous.
- Do not enter buildings that have been affected by the earthquake, because there may still be debris.
- Do not walk in the area around the earthquake, there may still be aftershocks.
- Listen to information about the earthquake from the radio (if aftershocks occur). Don't be easily provoked by issues or news with unclear sources.
- Fill out the questionnaire provided by the relevant agency to find out how much damage has occurred.
- Don't panic and don't forget to always pray to God for the safety and safety of all of us.